The home of Irish Sport, the country's largest sporting arena and headquarters to the GAA; beyond the match day activity, it operates all year round as an event space, concert venue, visitor attraction and museum – not to mention as a group of dedicated people supporting the local community. This contract was to deliver a new digital communications platform for Croke Park; the Sporting Arena, the Meetings & Events space, Museum, Visitor Attraction, Community Hub and Concert Venue.
This project was delivered in-house, with a broad scope yet specific brief, to bring a number of independently operating entities within Croke Park together on a single, centrally managed platform. The project scope expanded to also include provision of brand photography and commissioning and creative direction of content from 3rd party specialists, including promotional video creation and interior photography.
Wireframing
& Visual Design
After conducting detailed scoping work with stakeholders across each of the stadium's operational channels; I developed the initial navigational structure, wireframe and visual design as part of a detailed briefing document for the external development team. This ensured we could expedite the development process to focus instead on critical functional requirements.
Commissioning
& Art Direction
A detailed audit of available assets was carried out; collating available historical content, articles and imagery alongside a review of content requirements in line with the new site design. This provided the basis on which to develop creative briefs for promotional videos, interior architectural and event photography, which I subsequently commissioned and collaborated on. I've included a sample of this work here, with beautiful promotional videos produced by Dave Berry; and architectural interior and staged environmental photography for Croke Park Meetings & Events by Donal Murphy.
I also provided Brand Photography for the stadium documenting the ongoing work the Stadium and GAA do in the locality, working with the Community Team on editorials covering funding for local support programs & initiatives, GAA Kelloggs Cúl Camps, Match Day, Concert Activity and GAA Museum & Stadium Tour events.
Design & Project
Management
This was a complex project, bringing together a number of diverse operational functions on a single platform; delivering a cohesive tone of voice whilst also satisfying the requirements of each business channel. This was achieved by thorough review and consideration of individual operational needs from the outset; detailed briefing preparation and careful management of 3rd parties, with rigorous attention to detail in the project management and delivery of the site and CMS.
Writing the website copy and art directing the video shoots and visual content creation, ensured I was able to communicate the unique atmosphere, traditions, professionalism and character of this historic stadium in a cohesive manner; capturing the heart of this world renowned cathedral of sport.
Contributing brand photography to help build a visual asset bank for the Community team, whilst capturing key content for the new website, provided me with the opportunity to get to the core of what Croke Park and the GAA is all about; people, community and connection through sport.
This was a unique project, demanding in scale and scope, and one I am particularly proud to have been involved with.
VISIT WEBSITE
Clean, responsive and considered UX design, provided Croke Park with a flexible and feature packed, visually led platform; capturing the essence of what Croke Park and the GAA represents, whilst facilitating growth and future development.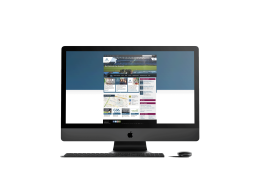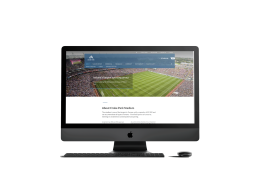 Project Services
& Delivery
This brief called upon all areas of expertise in the delivery of the primary site and associated content; delivering excellent RoI, within budget and on time. From a project management perspective, it afforded me the opportunity to work with fantastic 3rd party partners on the site development and content creation aspects of the brief.
As part of this project, I also consulted with the GAA's project team as part of the scoping, tendering and agency selection process for the development of their own digital platform.
Scoping Documentation & Brief
User Journey/UX
Wireframing
Copywriting Site Content
Developer Tendering & Oversight
Project & Budget Allocation
Creative direction - Design & Assets
Commissioning 3rd party creative services (video, drone, interior photography)
Brand Photography - community, concert, match day
CMS training for staff